Treatment Of
Alopecia Areata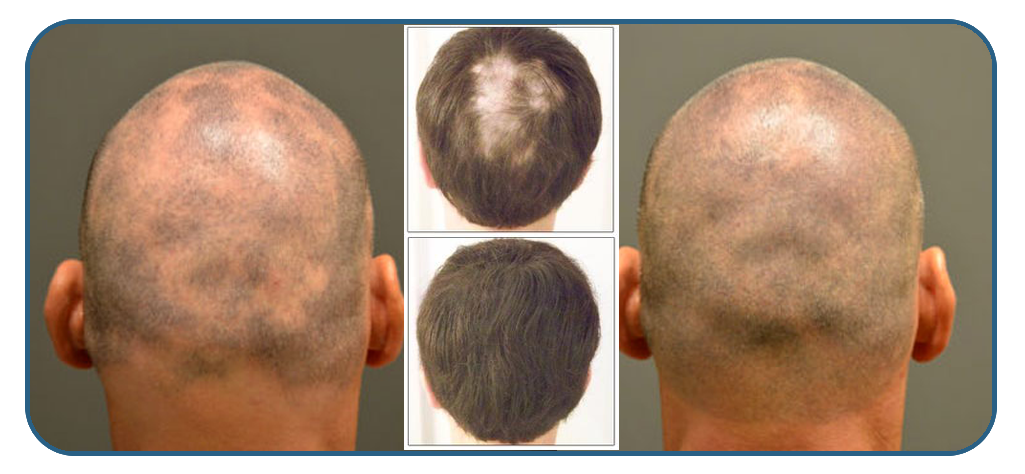 WHAT IS ALOPECIA AREATA?
Alopecia areata is a type of hair loss that occurs when your immune system mistakenly attacks hair follicles.The damage to the follicle is usually not permanent. Experts do not know why the immune system attacks the follicles. Alopecia areata is most common in people younger than 20, but children and adults of any age may be affected. Women and men are affected equally. Any hairy areas of body can get affected including beard, moustache, body hairs in males.
WHAT HAPPENS IN ALOPECIA AREATA?
Alopecia areata usually begins when clumps of hair fall out, resulting in totally smooth, round hairless patches on the scalp. In some cases the hair may become thinner without noticeable patches of baldness, or it may grow and break off, leaving short stubs (called "exclamation point" hair). In rare cases, complete loss of scalp hair (alopecia totalis) and body hair(alopecia universalis) occurs. The hair loss often comes and goes - hairs will grow back over several months in one area but may fall out in another area. When alopecia areata results in patches of hair loss, the hair usually grows back in 6 months to 1 year. Although the new hair is usually the same color and texture as the rest of the hair, it sometimes is fine and white initially. circles are quite often linked to family.
HOW IT IS DIAGNOSED?
Alopecia areata is diagnosed through a medical history and physical examination. Your doctor will ask you questions about your hair loss, look at the pattern of your hair loss, and examine your scalp.
TREATMENT OF ALOPECIA AREATA
Depends on age of patient, size of patches and speed of appearance of n ew patches. Topical Treatments : mostly includes topical steroids, immunomodulators or contact sensitizers, minixidil etc.. Oral Treatments: oral steoids are needed to control rapidly spreading disease and few cases may require oral immunosuppressants like methotrexate and azathioprine.
PROGNOSIS
Alopecia areata cannot be "cured" but it can be treated. Most people who have one episode may have more episodes of hair loss.

"Your Skin Is In Safe Hands"
- Dr. Tushar Rajani